As a pastor, and also a chaplain for the local police department in the past, I've gotten to be a part of some of the best and worst times of people's lives. As you might imagine, people ask the big-picture type of questions, especially when they're going through really tough times or when there are big changes in life.
Why am I here? What is life all about? What is the meaning of life? How we answer these big-picture questions is important so we can live with hope and a sense of purpose in times of uncertainty, pain, and frustration.
What is the meaning of life according to the Bible? According to the Bible, knowing God is the meaning of life because He is the "author of life" (John 17:3). The meaning of life is not based on things we see in the world "for life is more than food, and the body more than clothing" (Luke 12:23).
What does it mean to know God? Why can't we base the meaning of life on relationships, career, or personal happiness? Understanding the answer to these questions in the Bible gives a sense of purpose and fulfillment in our lives.
And he said to his disciples, "Therefore I tell you, do not be anxious about your life, what you will eat, nor about your body, what you will put on. For life is more than food, and the body more than clothing.

Luke 12:22 (ESV)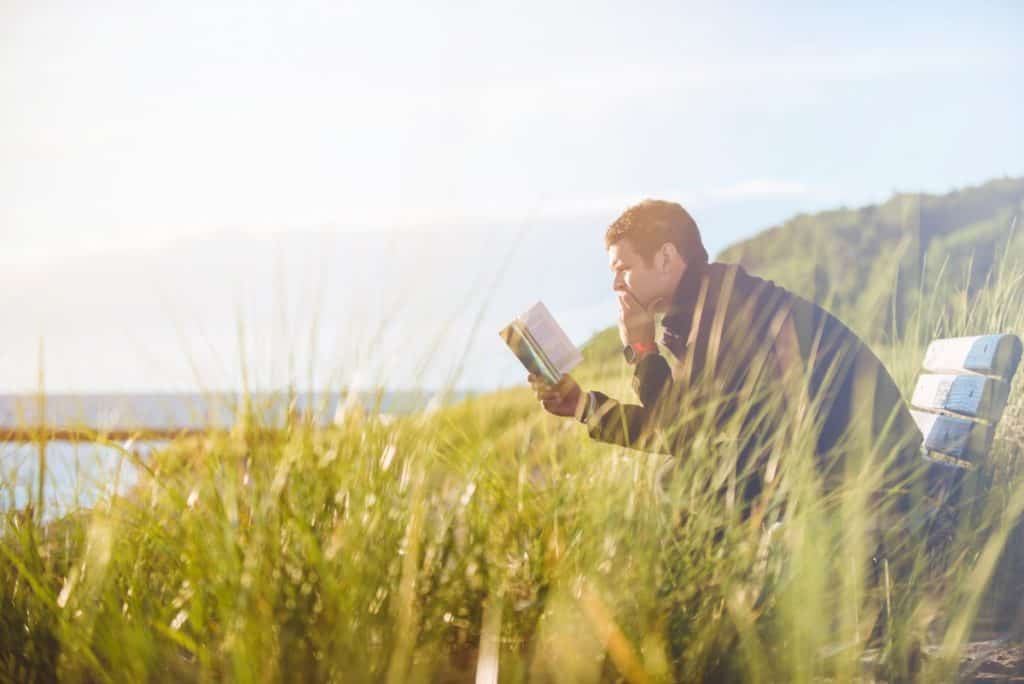 Table of Contents
The Meaning of Life Is to Know God as the Author of Life
The Bible says that God created the world (Gen. 1:1). "In the beginning, God created the heavens and the earth." (Gen. 1:1). 
God, as the author of life, brings meaning to life. Everything God created was meant to show what God is like. God created a world with a purpose, by His design. The world we live in and the life of every person has a purpose and is not just the product of chance, random events, and biological selection.
God originally made a perfect world and said it was very good. God made a world without brokenness – without war, sickness, or death.
And God saw everything that he had made, and behold, it was very good. And there was evening and there was morning, the sixth day.

Genesis 1:31 (ESV)
When we look at the world around us, we see that we live in a world of brokenness. Depression, anxiety, fear, sickness, war, and more… These are real and everyone experiences those things at some point in their lives.  And when we come face-to-face with our own personal brokenness, we look for a way out.
We try to get out of the brokenness by looking for other relationships, careers, religion (trying to be good enough), or looks for ways to numb our pain through things like drugs or alcohol.
The Bible says that it was mankind that choose to not follow God's ways, but to go our own way. This is what the Bible calls sin. And sin is what leads us into brokenness (Rom. 3:23).
This video illustrates what the Bible says about life right now in the world.
The Meaning of Life Is to Know God Through Jesus Christ
According to the Bible, in John 17:3, the meaning of life is to know Jesus Christ.
And this is eternal life, that they know you, the only true God, and Jesus Christ whom you have sent.

John 17:3 (ESV)
The meaning of life would be incomplete without knowing Jesus as the one who came to restore God's original design in us. Once God begins His work in us, we can appreciate all the good things that are in our lives: relationships, skills and talents, and experiences, and material possessions.

According to the book of Genesis, God gives people the gifts and responsibility of marriage, family, relationships, culture, and work. This is the reason God created Adam, the first man and placed him in a garden to work it and take care of it (Gen. 2:15).
Our relationships, work, and culture can change, so they can't be the basis of the true meaning of life. Life-giving relationships, children, creative arts and expression are beautiful things we experience in life. They are absolutely meaningful. But they cannot be the definition of life and bring the ultimate meaning to life.
What keeps us up at night? It's when relationships, work, and culture don't go as we would like. These things can actually bring the most pain in our lives as well. This is because we live in a world of brokenness. The things that are meant to bring us fulfillment and joy sometimes cause us the greatest grief and misery.
In the Bible, what is the meaning of life? It is to know Jesus Christ, whom God has sent.
The thief comes only to steal and kill and destroy. I came that they may have life and have it abundantly.

John 10:10 (ESV)
Jesus says that there is an enemy, a thief, whose main goal is to steal, kill, and destroy God's purpose and meaning for the world. Jesus says that the reason He came was to give us life abundantly, to restore  God's design for our lives (John 10:10).
God does not leave us in our brokenness. He enters into our brokenness. The way He does this is by sending Jesus. Jesus was born as a baby, grew up and lived a perfect, sinless life. Then, He died on a cross to pay the penalty of our sins (Rom. 6:23). God raised Him from the dead.
Jesus says that if we would turn from our own ways, believe in Him, and follow Him as the Lord, the Boss, of our lives, He would begin to restore God's design in us.
Life Without the Knowledge of God Leads to Emptiness
Vanity of vanities, says the Preacher,
    vanity of vanities! All is vanity.

Eccl. 1:1 (ESV)
Ecclesiastes is a book of the Bible, one of the Wisdom books, that explains how life in this world can be meaningless. Solomon, one of the great kings of Israel, got to pursue everything and anything he wanted to in life. 
His conclusions after everything is: Life is vain, empty, and worthless without God. In this world, we will experience life "under the sun"  as one marked by brokenness. 
All the riches, learning, and experiences in life end up being empty. Whether people try to live a good life or not, the conclusion is the same: Life goes on. Everything starts from dust and returns to dust (Eccl. 3:20).
This is why Jesus says in Luke 12:22-23 (ESV):
And he said to his disciples, "Therefore I tell you, do not be anxious about your life, what you will eat, nor about your body, what you will put on. For life is more than food, and the body more than clothing.
Jesus says that life is more than food and the body more than clothing. Life is not an endless pursuit to get more.
Meaning in life comes from a deeper place than just the physical world and the things that we are usually so busy living to get more of. People who are in countries going through the devastation of war or famine have very little food and clothing. Yet, people still find meaning in life and the will to survive. 
Many people live ensnared by the things in this world and it's no wonder that anxiety, fear, and depression are the result. The endless pursuit to get more, live longer, and get ahead has led to a fast-paced, competitive, and sometimes cruel world. 
God gives us food, clothes, relationships, and other things in life to bring joy, enrichment, and pleasure to our lives. And He wants us to trust Him to provide those things for us. He wants us to find the true meaning of life in Him first, in seeking His Kingdom (Luke 12:31).
Instead, seek his kingdom, and these things will be added to you.

Luke 12:31
The paradox of life is that the more we grope to find it's meaning, the less we can grasp it. Jesus says in Luke 17:33 (ESV) "Whoever seeks to preserve his life will lose it, but whoever loses his life will keep it." The only way to find life is to find it in God and in pursuit of Him in every season of life.
According to the Bible, the meaning of life is found in believing in Jesus (John 20:31).
But these are written so that you may believe that Jesus is the Christ, the Son of God, and that by believing you may have life in his name.

John 20:31
Jesus is called the "Author of life" (Acts 3:15; see also John 1:3). When we put our trust in Him, we can begin to understand the real meaning of life.
When we base our lives on knowing God, we can rightly appreciate the good and beautiful things in life. Basing our lives on the things of this world will leave us feeling empty and eventually frustrated.
Looking for Meaning in the World
Is based on things that can change at anytime
Is based on other people's choices and favorable circumstances
Is based on things that are out of our control
Cannot give us lasting peace
Can leave us empty even when we have plenty
Finding Meaning in Knowing God
Is based on the unchanging character and goodness of God
Is based on the Author of Life reaching out to us
Is based on our choice to seek God at anytime
Gives a peace that no one can take away
Will always lead to fulfillment whether we have plenty or not
Meaning in Life Comes from Knowing God as Our Father
God is not only the author of life, He is our Father. A young child will feel empty and disconnected if she does not know the warmth and love of a father. In the same way, the meaning of life can be experienced fully only when we are connected to our Father in heaven.
When we put our faith in Jesus Christ, God adopts us as His children and a cry comes out of us: Abba! Abba is the Aramaic word for father. A better English equivalent might be daddy or papa.
And because you are sons, God has sent the Spirit of his Son into our hearts, crying, "Abba! Father!"

Gal. 4:6
To live as orphans apart from the Father in heaven is to miss out on a significant part of the meaning of life. When we know God as our Father, we can learn to trust and receive love. We can also learn to be corrected and led on a better path because God cares for us (Heb. 12:7-8).
It's clear from what Jesus says in the Gospels that God is not after a religious devotion, but a personal relationship. God is not after about enforcing His list of do's and don'ts. God is after our hearts, as a Father would want from His children.
If you had known me, you would have known my Father also. From now on you do know him and have seen him."

John 14:7
Jesus shows us exactly how God is a Father to us. Although we can't see God with our eyes, when we see Jesus' actions and words in the Bible, we can know God as He reveals Himself to us.
And in the verse just before that, Jesus makes an astounding claim.
Jesus said to him, "I am the way, and the truth, and the life. No one comes to the Father except through me. 

John 14:6
Jesus claims that He is the way, and the truth, and the life. The Bible defines Jesus Himself as the author and giver of life, but also as the definition of life itself. Jesus also claims that there is no other way to God, the Father, except through Him. Jesus is the One that the Father has sent.
When We Know God as Our Father
We will have a sense of identity as God's children. Jesus died on the cross, so that our sins can be forgiven and that we would become the children of God. (John 1:12)
We will feel loved and wanted. This is important for every human being because God created us – to have a sense of worth.
We can have a spiritual family, others who know God as their Father. We can learn to live with people in this world.
We will receive the disciplines that only a loving Father can give. We will be able to receive correction and learn from others in our lives.
We can have the confidence to be creative and to lead, just like our Father. We can be free to pursue the things that God has uniquely designed us for in life.
We can live with purpose and meaning because our Father created us with a purpose. We have something worth living for, and if needed, worth dying for. 
We can live beyond just having a religion and have a personal relationship with the uncreated God.
An Invitation
People throughout history have tried to find the meaning of life scientifically, biologically, philosophically, and spiritually. Most of the time, people are busy living their lives rather than thinking about the meaning of it. 
At some point in life, the usual things that once brought meaning, purpose, and fulfillment are not the same. Sometimes, it can be a crisis, or just a change in the season of life, when people start asking the bigger questions.
I hope that you'll take the time to consider what the Bible says about the meaning of life. Please don't take my word for it, or anyone else's. Consider what the Bible says for yourself and see if it's true or not. Perhaps you'll find that God is speaking to you through your life and through His Word, the Bible.
Perhaps this invitation from God in Jeremiah 33:3 will be for you?
Call to me and I will answer you, and will tell you great and hidden things that you have not known.

Jer. 33:3
Subscribe to my newsletter for updates and encouraging content.

If you enjoyed this article, here are some that you might find helpful:
I wrote an article that explores what the Bible says about heaven and uncovers the 5 most commonly held myths and misconceptions: 5 Surprising Truths About Heaven in the Bible: What Is Heaven Like? [Link opens in a new window]
How to Get to Heaven According to the Bible: It's NOT by Being Good. In this article, I describe how you can be sure you get into heaven and not leave it to chance.
And lastly, if you want to start studying the Bible for yourself, I'd recommend these 7 Guidelines: How to Start Studying the Bible for Yourself.
Photo by
Ben White
on
Unsplash