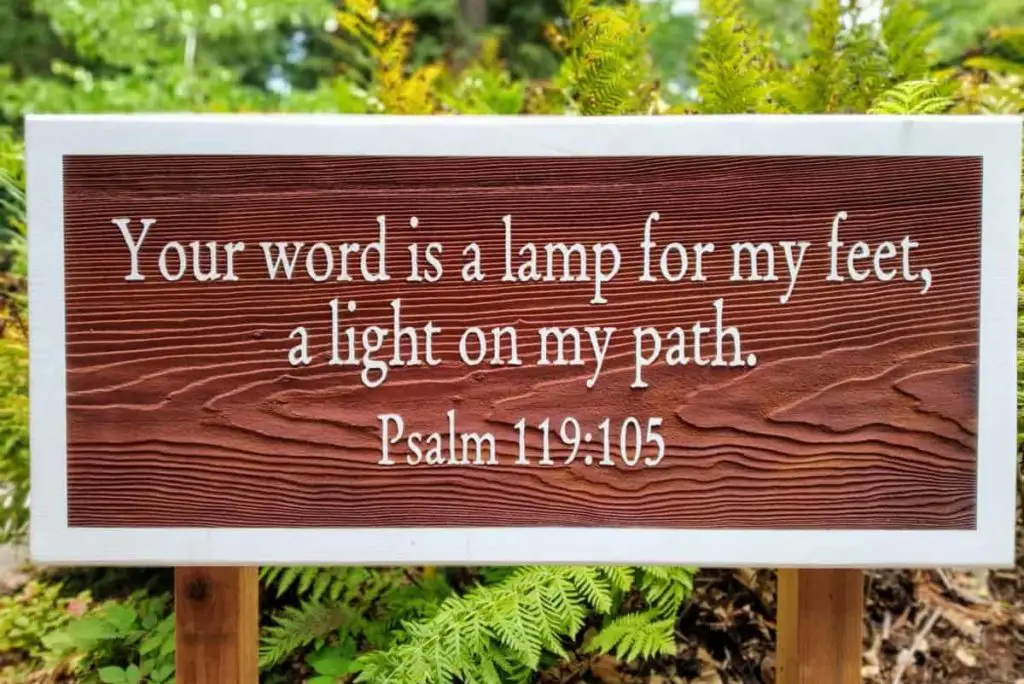 Verses from Psalm 119 were some of the Scriptures that I memorized when I first began studying the Bible. This Psalm has expressed the desires of countless people throughout history to know God and follow Him. On a lighter note, learning about this Psalm might come in quite handy for the occasional Bible quiz and Bible trivia as well.
What is the longest Psalm in the Bible? The longest Psalm in the Bible is Psalm 119. It is 176 verses in length because of its poetic structure as an acrostic of every letter of the Hebrew alphabet. The length is appropriate for this Psalm's theme of devotion to God and His Word. It is also the longest chapter in the Bible.
The length of this Psalm is not just random. It could not have been one verse shorter or longer. There is a good reason for its exact length and it is actually a perfect fit for its message.
Table of Contents
Psalm 119 is Exactly 176 Verses Long Because of Its Poetic Structure
Psalm 119 is in an alphabet acrostic. There are 22 stanzas or paragraphs in this Psalm, one for each of the 22 letters of the Hebrew alphabet in order. Each of the stanzas has 8 verses which also begin with the same letter. That makes 22×8 = exactly 176 verses. 
In essence, Psalm 119 is giving us the complete, A to Z reason for delighting in God and His Word.
The Psalmist who wrote this Psalm is not having any difficulty coming up with words that start with each letter. He actually comes up with 8 for each!
Psalm 119 was originally written in Hebrew, but if we were to make up an example with the English alphabet, it might look something like…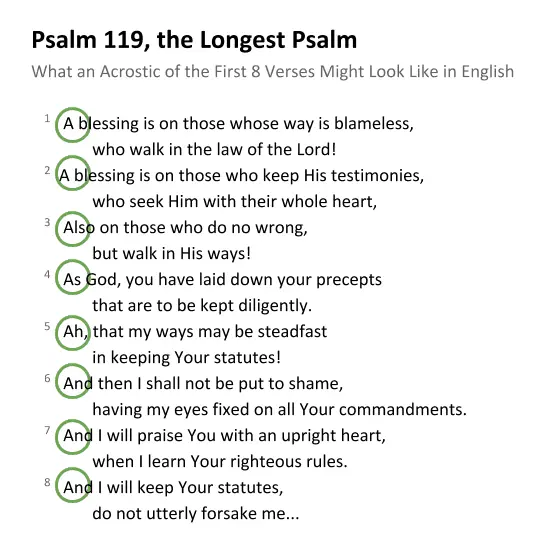 Each verse of Psalm 119:1-8 would begin with the letter A. The first letter of the Hebrew alphabet is "aleph," so for the original Psalm, each letter of verses 1-8 would begin with a word that starts with "aleph." The next 8 verses, Psalm 119:9-16, would go onto the next letter, which would be "beth" and so on until all 22 letters were covered.
Even without knowing Hebrew, the illustration below shows how each verse begins with the Hebrew letter aleph, which is circled. Hebrew reads right to left, so it'll be on the right side.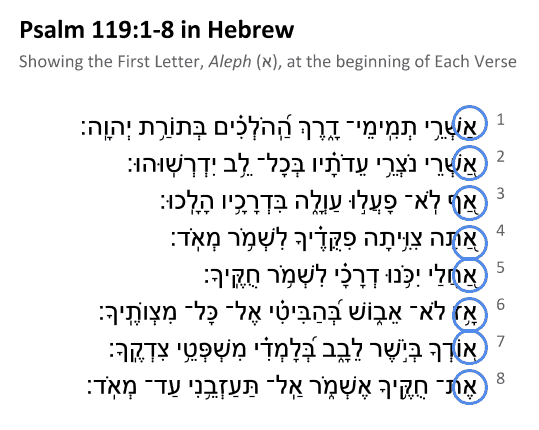 So, Psalm 119 could not have been even 1 verse shorter or longer. It's the right length for this alphabet acrostic. But most alphabet acrostics in the Bible, like Psalm 25, have just 22 verses, one verse for every letter of the alphabet. Why does Psalm 119 have 8 times as many?
Psalm 119 is 8 Times Longer Because of Its Theme
The main message of Psalm 119 can be summed up in verse 97. It's about whole-hearted delight in God and His Word.
Oh how I love your law!
It is my meditation all the day.

Psalm 119:97
The Psalmist who wrote this loves God's Word so much that it's in his thoughts all day long. If he is thinking about God's Word so much, it only makes sense that he has a lot to say about it.
Psalm 119 uses 8 words to describe God's Word. The Psalmist covers the theme of God's Word from many different angles. Each has its own unique meaning and nuance. Just as a guitarist will know there are many different types of guitars and each has its own unique tone and use, the Psalmist describes his passion for God's Word in many different ways.
| 8 Words to Describe God's Word in Psalm 119 | Meaning/Nuance |
| --- | --- |
| Law | God's instruction for His people |
| Word | God's thoughts and speech |
| Testimonies | God's ways written down as a witness and reminder to us |
| Ways | How God wants the journey of our lives to be lived out |
| Precepts | God's order, the way He has made life to work |
| Statutes | The law or ordinance that will bring a blessing if it's followed |
| Commandments | God action God wants us to do |
| Rules | What is the just and the right thing to do |
Psalm 119 has 8 verses for every letter of the Hebrew alphabet. This is not a short nursery rhyme, but its sheer length is making a bold statement. One of these 8 words is used in almost every verse of Psalm 119.
How do I love thee? Let me count the ways.

Elizabeth Barrett Browning
Psalm 119 describes how God's Word brings blessings, wisdom, and understanding. His Word reveals His heart towards us. We can begin to see from God's perspective – how He made life to work so that we can live lives that are blessed and full of meaning.
Your word is a lamp to my feet
and a light to my path.

Psalm 119:105
Entire books have been written on this one Psalm alone. John Calvin, the Reformer and theologian, preached 22 messages on it, one message for every section of 8 verses.
Many people have thought this Psalm was penned by King David, who wrote more than 70 of the Psalms. Although the author of the Psalm is not noted in the original Psalm, the length of Psalm 119 has drawn the attention of people throughout history who have resonated with its message.
Psalm 119 Has Drawn Attention to its Message Because of Its Length
Its status as the longest Psalm in the Bible has given Psalm 119 a lot of attention through the years. It's sort of the user's guide to how people can encounter and experience God through the Word.
Psalm 119 is a chapter of the Bible that calls attention to the importance of the Bible itself.
One of the benefits of an alphabet acrostic is that it aids in memorization and learning. When something is this lengthy compared to other Psalms, it's difficult to memorize, let alone read in one sitting. Because of the acrostic structure, people have taken up the challenge to memorize it. William Wilburforce, the leader in the movement to abolish the slave trade in England in the 1800s, quoted this Psalm from memory during his walk home from Parliament.
How sweet are your words to my taste,
sweeter than honey to my mouth!

Psalm 119:103
The irony of this Psalm is that there is great delight in someone else, namely God, telling us what to do. As one begins to delight in God's Word, there is a realization of who God is and what He is really like (Eph. 1:18-21). And this makes us truly happy to pursue this God and receive His Word.
The Law, commands, and statutes become sweet and life-giving. God gives these to us not to condemn us but to show us how life is intended to work. His Word expresses His heart to bless and causes everything to thrive.
Subscribe to my newsletter for updates and encouraging content.

Related Questions
Are there any other alphabet acrostics in the Bible? Other acrostics in the Bible include Psalm 25, 34, 37, 111-112, 145 and Prov. 31:10-31. The entire book of Lamentations, all 5 chapters, is made up of acrostics. Chapter 3 has 3 verses for each letter of the Hebrew alphabet, making it 66 verses long (22×3).
What is the second longest Psalm in the Bible? Of the 150 total Psalms in the Bible, the second-longest is Psalm 78 and comes in at 72 verses, which is less than half of Psalm 119. Psalm 78 brings out lessons from history so that people would move forward in faith.
What is the shortest Psalm in the Bible? The shortest Psalm in the Bible is Psalm 117. It's only 2 verse long and calls for all the nations to worship God.