Through the years of trying out different Bible Study methods, I've found that complicated (12 color-coded-highlighting-systems, complex charts, etc) does not necessarily mean better. It's the simpler, easier-to-use tools that people will actually use and enjoy. But the simplicity of this method doesn't mean it's just for beginners and it's not any less effective or impactful than other ways of studying the Scriptures.
What is the easiest way to study the Bible? The easiest way to study the Bible is to read a portion of Scripture and ask the following 3 questions: 1) What do I learn from this passage about God? 2) What do I learn about people? 3) What does God want me to do?
This is sometimes called the "Sword" Bible Study Method or Sword Method Bible Study. This picture of a sword helps us to remember the 3 questions to ask in a Discovery Bible Study (DBS). The sword points upward to God, the handle points downward to man, and the 3rd question is how we apply what we learned.
For the word of God is living and active, sharper than any two-edged sword, piercing to the division of soul and of spirit, of joints and of marrow, and discerning the thoughts and intentions of the heart.

(Hebrews 4:12) 
If you're ready to dive in and start using the tool right away, you're good to go. It's a simple tool that you can begin to use right away. Read on if you want to see a few examples and a little bit more explanation on how to use these 3 questions and why this method is so effective.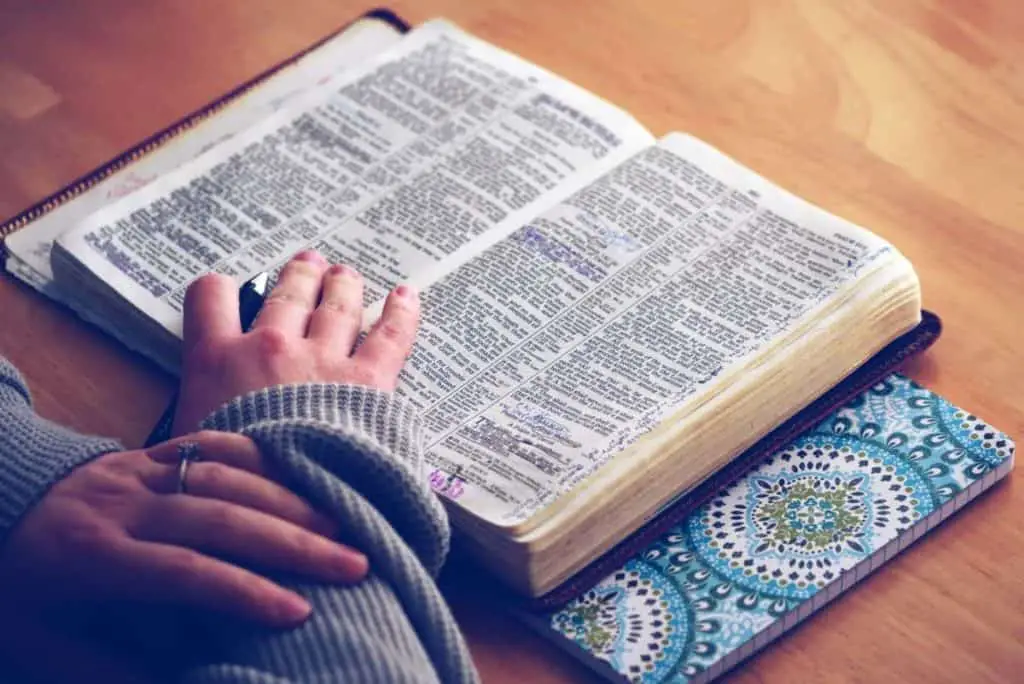 Table of Contents
#1 What Do I Learn About God?
#1 What does this passage teach me about God, Jesus or the Holy Spirit?
The Bible is the story of how God works in the world and how He relates to people in their lives. The Bible is God revealing Himself to people. In asking "What do we learn about God in this story?" we're hungry to know more about how God thinks, acts, and feels. 
Some stories reveal what God is like, His character. Some reveal what God does, His actions. Some reveal how God thinks. Some show God's emotions. Yes, God has emotions! We are created in God's image, so we also have emotions. In asking these questions,  we're peering into the very nature of God.
You will seek me and find me, when you seek me with all your heart.

(Jeremiah 29:13)
Let's look at an example. Luke 19:1-10 tells the story of Zacchaeus, who climbed a tree so he could see Jesus above the crowd.
Luke 19:1-10
He entered Jericho and was passing through. And behold, there was a man named Zacchaeus. He was a chief tax collector and was rich. And he was seeking to see who Jesus was, but on account of the crowd he could not, because he was small in stature. So he ran on ahead and climbed up into a sycamore tree to see him, for he was about to pass that way. And when Jesus came to the place, he looked up and said to him, "Zacchaeus, hurry and come down, for I must stay at your house today." So he hurried and came down and received him joyfully. And when they saw it, they all grumbled, "He has gone in to be the guest of a man who is a sinner." And Zacchaeus stood and said to the Lord, "Behold, Lord, the half of my goods I give to the poor. And if I have defrauded anyone of anything, I restore it fourfold." And Jesus said to him, "Today salvation has come to this house, since he also is a son of Abraham. For the Son of Man came to seek and to save the lost."
Example 1: What do we learn about God from the story in Luke 19:1-10?
Jesus knew Zacchaeus' name although they had never met. God cares for us and knows us by name.
Jesus offered to stay at Zacchaeus' house to the horror of the religious people who didn't really know God. God views people differently than we do.
Jesus tells us His mission: to seek and save the lost. God's heart is for the lost and hurting.
I've kept the answers brief in the example, but you can get an idea of where the answers to the question might lead to. Writing down your thoughts can help with processing your thoughts and lead to deeper insights.
The point of asking the question is not to get "all the answers right." The important thing is that the questions are being asked and our minds and our hearts are engaging with God's Word. 
Also, not every passage or story in the Bible will deal with all 3 of these questions, so you can just answer the ones that apply.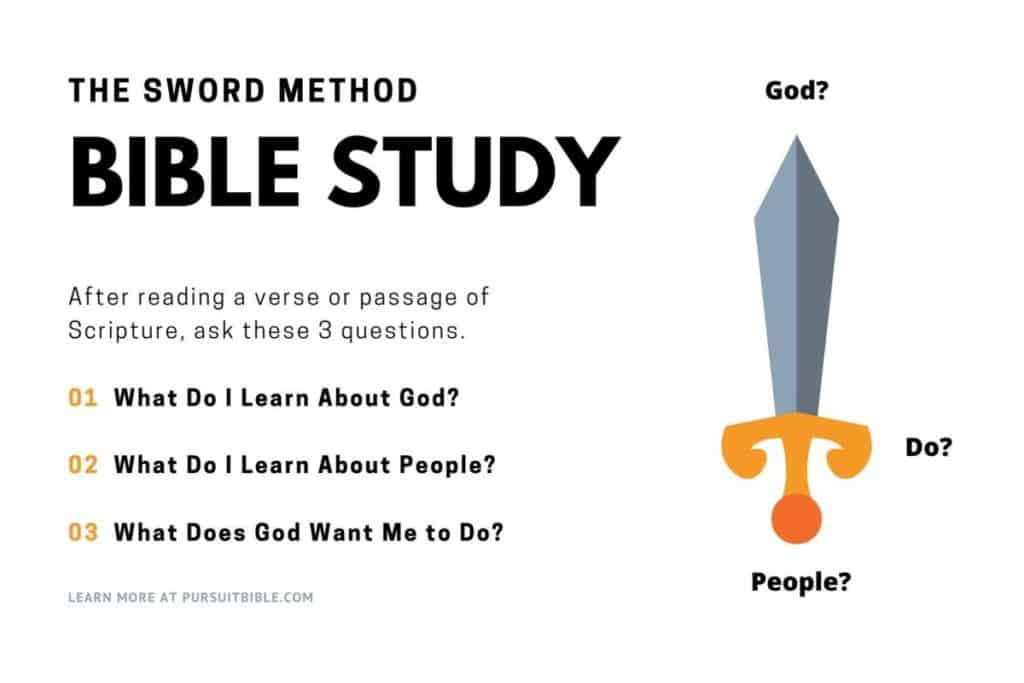 #2 What Do I Learn About People?
#2 What do I learn about people?
What do I learn about mankind in general – How and why do people act, think, and feel the way they do? 
What do I learn about myself personally and why I act, think, and feel the way I do? 
Do I identify with anyone in the story and why?
In asking this second question, we're letting the Bible search us so that we can better understand ourselves and others. The Bible is not just about God. It's also about how God relates to all kinds of people in different circumstances throughout history.
Example 2: What do we learn about people from the story in Luke 19:1-10?
Zacchaeus wanted to see Jesus. We can take steps to position ourselves to encounter God.
Zacchaeus responded with joy when Jesus offered to stay at his home. We can feel joy when Jesus comes into our lives.
Zacchaeus wanted to make things right if there was anyone he had wronged. How did he end up coming to this decision? What was he feeling?
Some people weren't happy at all with Jesus' decision to stay at Zacchaeus because they thought he was a sinner. We need to see people through Jesus' eyes.
#3 What Does God Want Me to Do?
#3 What Does God Want Me to Do?
Is there anything that God wants me to do according to this passage? 
Is there a sin to avoid? Is there a promise to claim? Is there an example to follow? Is there a command to obey?
Obedience is key to spiritual growth. When we do what God calls us to do in His Word, we begin to understand His heart and mind.
Everyone then who hears these words of mine and does them will be like a wise man who built his house on the rock.

(Matt. 7:24)
Obedience is also key to a deeper understanding. We don't just want head-knowledge but heart transformation (1 Cor. 8:1). We want to bear the fruit of the Spirit.
Example 3: Is there anything that God wants us to do according to Luke 19:1-10?
Jesus looked at Zacchaeus differently than other people. Does God want us to see as He sees?
Zacchaeus showed by his actions how his heart had changed. Does God want us to make things right with anyone?
Jesus came to seek and save the lost. Is there anyone that God wants us to express His heart to?
Another way to ask this question about application is to use the acronym S.P.E.C. Is there a Sin to avoid, a Promise to claim, an Example to follow, or a Command to obey? I like to simplify it and just use the last question when people start out, but you can expand out to these 4 questions if you'd like.
The Sword Method of Bible Study
This way is arguably the easiest way to study the Bible – I've shared this method with many children, including my own. Children can learn to use it and even teach others how to use it. At the same time, it's flexible enough to lead anyone to profound discoveries in studying the Scriptures.
The "Sword" method of Bible Study is the easiest way to study the Bible. It's also a good way to train someone how to teach the Bible, lead a Bible discussion or small group. The small group leader can simply ask the 3 questions one by one and let people answer. This method is used by some missions groups to disciple believers and to train them to teach the Bible to others on the mission field.
Entering into Dialogue with God
Whatever study method you use, the most important thing is to enter into a dialogue with the Holy Spirit, who will teach you what you need to know through God's Word.
All Scripture is breathed out by God and profitable for teaching, for reproof, for correction, and for training in righteousness, that the man of God may be complete, equipped for every good work.

(2 Tim. 3:16-17)
A method like the one we've been talking about is effective and powerful because we're allowing God's Word to speak for itself. And we're opening to the Holy Spirit teach us as we ask these questions.
We're also reading to follow Jesus and do what the Word of God says. We're not reading just to fill our head up with facts from the Bible. We're reading and studying to encounter Jesus, who Himself is the Word, the exact and complete expression of God, the Father (John 1:1).
I hope you'll try using the "Sword" method of Bible study yourself or share it with someone so they can start studying the Bible for themselves.
In closing, here are some of the benefits of being in God's Word.
The 7 Blessings of Reading and Applying God's Word
We can know the truth and our purpose in life. (John 17:17) 
We can know God as He has revealed Himself to us. (Acts 17:23) 
We can know the way to salvation through Jesus Christ, the Son of God. (1 John 5:13; Acts 4:12) 
We can grow spiritually and be nourished. (1 Pet. 2:2; Matt. 4:4) 
We can receive guidance and wisdom for our daily lives. (Psa. 119:105) 
We can receive victory over sin and temptation. (Psa. 119:11; Matt. 4:1-17; Eph. 6:17) 
We can be blessed in what we do as we obey God's Word. (James 1:22-25)


Subscribe to my newsletter for updates and encouraging content.

Photo Credit:
Photo by Aaron Burden on Unsplash